BLΛƆK PIИK -[UPDATE] Filming MV during Chuseok; Comeback in OCT with 2 or More Songs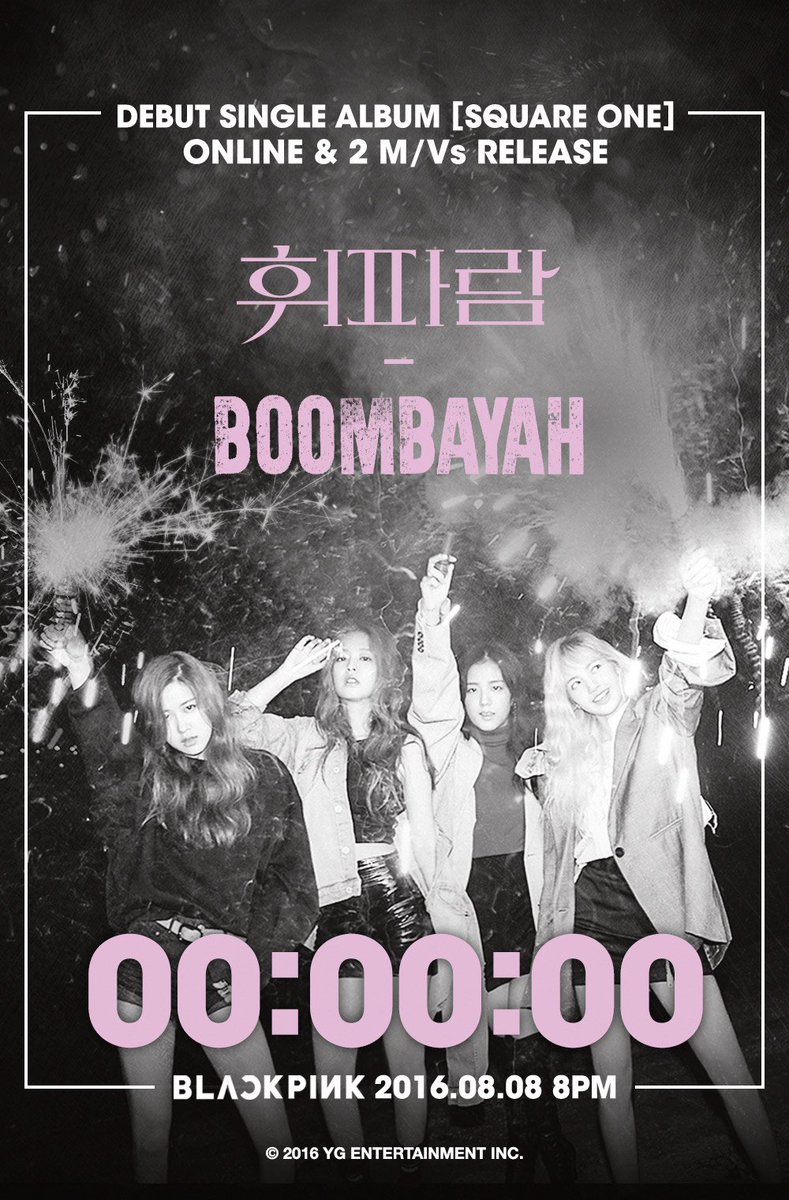 BLACKPINK DIGITAL DEBUT SINGLE ALBUM:
Melon: http://www.melon.com/artist/song.htm?artistId=995169
Bugs: http://music.bugs.co.kr/album/20049444?wl_ref=M_contents_01_07
Olleh: http://www.ollehmusic.com/#/AlbumDetail/f_Album_info.asp?album_id=80858112
Genie: http://www.genie.co.kr/detail/albumInfo?axnm=80858112
BLACK PINK DEBUT ON ALL CHARTS
WHISTLE
MelOn: #11
MNET: #1
Bugs: #1
Olleh: #1
Soribada: #17
Genie: #1
Naver: #6
Monkey 3: #8
BOOMBAYAH

Melon: #15
MNET: #2
Bugs: #3
Olleh: #3
Sorbada: #11
Genie: #2
Naver: #11
Monkey 3: #11
V CHANNEL MV UPLOADS:
BOOMBAYAH
http://www.vlive.tv/video/12167/BLACKPINK—붐바야BOOMBAYAH-MV
WHISTLE
http://www.vlive.tv/video/12168/BLACKPINK—휘파람WHISTLE-MV
[BLACKPINK- DEBUT SHOWCASE COUNTER]
BLACKPINK – DEBUT SINGLE '휘파람'
BLACKPINK IN YOUR AREA D-2

BLACKPINK IN YOUR AREA D-2 "JISOO"

BLACKPINK – DEBUT SINGLE 'BOOMBAYAH'
BLACKPINK IN YOUR AREA D-3
BLACKPINK IN YOUR AREA D-3 "LISA"
BLACKPINK IN YOUR AREA D-5
BLACKPINK IN YOUR AREA D-4 "JENNIE"

BLACKPINK IN YOUR AREA D-5
BLACKPINK IN YOUR AREA D-5 "ROSÉ"

BLACKPINK IN YOUR AREA
[!] #BLACKPINK Member Positions officially revealed!
JISOO/지수 (VOCAL)
JENNIE/제니 (RAP, VOCAL)
ROSÉ/로제 (VOCAL)
LISA/리사 (RAP, DANCE)
cr:blackpinkforums
(TRANS) BLACKPINK who finished 3MV filming recently, said to be only editing left +having a large-scale of promotion
http://entertain.naver.com/read?oid=108&aid=0002542669
YG senior official to Starnews on 22th: "As BLACKPINK finished 3songs MV filming, if only the editing thingy done, BLACKPINK will formally
introduce to music industry, right after". Meanwhile YG had firstly said that they will be debut in the end of July. YG official: "As this is the first YG girlgroup after long time, we will promote this group extendsively, (big-scale promotion)".
YG who always had a massive and unique way of promotional debut and comeback, leads a interest how will BLACKPINK introduced in their debut.
In other hand BLACKPINK said to be promote all the 8songs that will released until the end of the year, planned to shoot all 8songs MV.
For now, it is known for BLACKPINK will have at least 8MV. BP, average 19yo girls, Lisa Jennie Jisoo Rosé with exceptional looks and skills.
cr: chaeyyg
[SOOMPI]Black Pink's Debut Countdown To Begin Soon
It looks like fans looking forward to Black Pink's debut will only have to wait a little bit longer.
On July 20, news outlet Osen released a report stating YG's new girl group will be debuting soon. They stated that YG's main producer Teddy has finished Black Pink's debut album after working on it for two years and the group has also finished filming their debut music videos.
A source from YG said, "It's true that music video filming finished this morning."
The report states that the group finished filming three music videos. This is quite a feat for a rookie group. Previously, reports claimed that Black Pink will film eight music videos. If this remains true, the group will likely film music videos for the remaining songs after their official debut.
YG previously revealed Jisoo, Jennie, Lisa, and Rosé as the members of Black Pink. Furthermore, earlier reports stated that the group will debut late July.
Source (1)
BLACKPINK – DANCE PRACTICE VIDEO
160706 YG, "Upcoming Debut" Black Pink's First Complete Dance Practice Revealed
YG's upcoming Black Pink has just revealed their first complete dance practice video.
At 10 AM on the 6th, YG revealed the dance practice of Black Pink, showcasing their perfect teamwork and dance skills of the members for the first time, capturing the attention of the public.
Jisoo, Jennie, Rosé, and Lisa especially donned "all black" outfits and matched to the beat perfectly with their knife-like choreography.
In addition, with the members' golden ratio revealed, they showed how they were able to show off a sexy choreography, raising expectations for future performances.
As YG is working hard to make their debut a success, such as working with four famous foreign choreographers, many people are having high expectations and confidence in Black Pink's skills.
Source: Sports Donga via Naver
Translated by: Mina @ YGNGG Forums

"Black pink means that being pretty isn't everything. By using pink, which is considered pretty, they will be a team with looks + talent"
There were supposed to be 9 members, but there are groups w/ many members these days so they chose the strongest 4 with similar vibes.
They may be compared with 2NE1 since they have the same number of members, but Black Pink will definitely be different.
http://entertain.naver.com/now/read?oid=109&aid=0003347383
cr: kristinekwak
YG Entertainment Reveals Name of New Girl Group ′BlackPink′
YG Entertainment′s new girl group, that was initially rumored to be more than 5 members, has confirmed to debut as 4 member group BlackPink.
On June 29, YG Entertainment revealed the name of their new group, BlackPink, through their official blog and revealed the first group images of all 4 members Jennie, Jisoo, Lisa and Rosé.
BlackPink, which is YG Entertainment′s first girl group debut since 2NE1 7 years ago, consists of talented members that have been training with YG Entertainment for 4-6 years. The average age of BlackPink is 19.
YG Entertainment′s representative has assigned Teddy as BlackPink′s main producer and the producer has written, composed and produced BlackPink′s debut album. Expectations are especially high as Teddy had previously produced hit tracks for 2NE1 and Big Bang.
The name BlackPink signifies the other side to the color pink, which is typically thought of as a pretty color. Pink is pretty, but "don′t think of it as just pretty," and "what you see is not everything." It signifies a team that is both pretty and talented.
Additionally, just how the word "Black" is included in special products, YG Entertainment′s new girl group is "A Special Girl Group."
Meanwhile, BlackPink is currently filming for a 3 music videos and YG Entertainment has hired international choreographers in order to successful debut their first girl group. The members of BlackPink are focusing on the last preparations before their official debut.
cr:mwave

[NB] YG confirms 4 member girl group 'Black Pink'
Article: YG's girl group Black Pink cuts down from 9 members -> 4 members confirmed debut

Source: Newsen via Naver


1. [+866, -81] Yeah, four members is just the right amount, better than coming out in a huge pack and having no one be able to differentiate the members
2. [+572, -39] Even today, if you think of a YG girl group it's automatically 2NE1. I still can't forget the first time I saw them.
3. [+743, -104] 100 times better than the name Gu9udan ㅋㅋ
4. [+589, -85] The four are so individually charming and stand out… more than anything, I like that they're only four members. It's a fresh number for once.
5. [+330, -63] I can't wait ㅎㅎ four is the right amount
6. [+82, -12] Black Pink?? Maybe they'll do units later and split into two and two for Black and Pink??
7. [+61, -6] Four is good. But that's pretty much telling the other trainees that they need to leave because I doubt YG's going to release another girl group for the next 5 years.
8. [+81, -15] Four is perfect! So much better than a huge pack of members only getting 3 second lines each
[엑스포츠뉴스=전아람 기자] YG Entertainment's top producer TEDDY is the producer of their new girl group.
TEDDY, who YANG HYUN SUK considers as his right arm, is in charge of launching YG's first new girl group in seven years.
Earlier on, YG officially announced that their new girl group will debut in July. But they gave no information about its members and the debut song.
Since it is YG's first new girl group since 2NE1, not only the fans but the whole music industry is looking forward to their debut.
YG will be revealing the members of the group starting from this week. One member will be revealed every week, which means YG will be revealing the first member of its new girl group within this week.
The concept of the new girl group will be YG's signature "girl crush", but the new girl group will be not the same as 2NE1.
YANG HYUN SUK noted, "They have been trainees for a long time, and their talent is guaranteed. I trained them hard. They are different from 2NE1 as I didn't want people thinking they are another 2NE1. I feel little pressure because they are YG's first new girl group in seven years, but I'm confident that they will do well."
cr: YG-LIFE
Comments
comments